don't forget who's taking you home.
I've got the makings for a thoroughly loathsome cold. But as I sit down in front of the comforting glow of the computer screen, I find a silver lining. It's been several days since I came near no one is awake, for a plethora of reasons. Not to be overlooked is that EZArchive has been updating and understanding the process was a challenge. That's your answer as to why songs are working correctly. I'll have to go in and manually change any song I want to keep up for your listening pleasure. My efforts may only take me as far back as the beginning of October. But I've missed this outlet, and feel a genuine sense of guilt in seeing that roughly the same amount of people check in on a daily basis.
It's nice to be able to take a breath. To delve into an album with scarce thoughts of 'keeping up' or sharing. I've made mention that it's been increasingly difficult to enjoy music the same way I have in the past. But sometimes a nice deep breath puts everything in better perspective.
Of course, I'll be explaining something as a metaphoric breath at this point. I know that it's everywhere and you see ads on Pitchfork (which hosts a less than glowing review) and everywhere else, but "Pussy Cats" Starring The Walkmen is an absolute eye-opener. I occasionally feel guilty about finding an appreciation for an artist through another's cover songs, but in the past month I've swallowed my pride and allowed Mike Kinsella to open my eyes to the undeniable influence of The Velvet Underground, and I've played The Walkmen's album of Harry Nillsson tributes no less than a dozen times in a week.
"Old Forgotten Soldier" is as effective now as it ever could have been. "Loop De Loop" should play at every party ever. Everyone has wished that "Rock Around The Clock" could sound grittier and sped through, and some songs (though you've heard them many times in your life) can have a new profound and moving impact on you. "Save The Last Dance" is one of the best songs to have spawned an awful film of the same name.
Bows + Arrows is superior to Everyone Who Pretended To Like Me Is Gone and denying that has set me back for too long. I vow to not go another week without owning A Hundred Miles Off, and Harry Nillsson will no longer be neglected in my record collection. Thank you, Walkmen.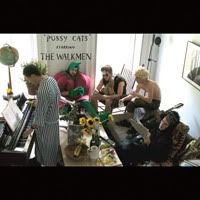 The Walkmen's "Save The Last Dance"
& "Loop De Loop"
from Pussy Cats


Here are a few more things I've been listening to a lot lately, served as a peace offering for neglecting you for almost a full week.

Blake Zweig's "Say Goodbye"
What Made Milwaukee Famous' "Hellodrama"
Decibully's "Uncle Sam's Yard"
Bishop Allen's "Things Are What You Make of Them [Reprise]"
The Format's "Janet"

I will start making up Christmas songs as well, but today I must offer a few songs that have been heard a lot in the last week, and their presence has been more than appreciated.

Michael Jackson's "Thriller"
Ray Parker Jr.'s "Ghostbusters"
Bobby Boris Pickett's "Monster Mash"
North American Hallowe'en Prevention Initiative's "Do They Know It's Hallowe'en?"