the years have been unkind like a winter clementine.
Starting out by telling you to go to You Ain't No Picasso to hear Beck cover Of Montreal is a poor way to keep you here. So is advising you download Bishop Allen's November Sixth show at the Troubadour from Fabulist. A stronger start would be by coming right out and saying:
It's Bishop Allen EP Day!
After today there will be just two additional days where excitement reaches a fever pitch and Christian, Justin and the Bishop Allen gang unveil their EP for the most recent completed month. To refer you to You Ain't No Picasso for a second time, Matt confirms that plans are set for Bishop Allen to release their sophomore album in the Summer of 2007. I don't know that this will be an alternate universe version of their long-awaited Clementines. A bulk of the original and continuously re-worked Clementines songs have reared their pretty heads throughout the EP project. Today, Bishop Allen release October and are previewing the EP with the song "Clementines." This is the first time I've become overwrought with sadness that the EP project is near completion.
Bishop Allen is an exceptionally and important band.
I rough drafted that sentence with an additional "to me" at the end. It seemed tacked on, needless, and false.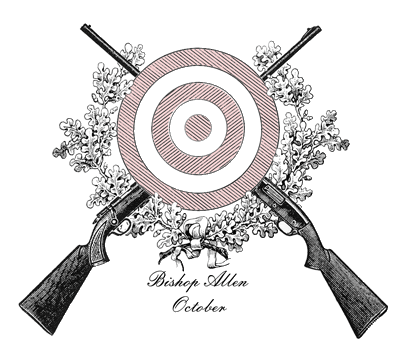 Bishop Allen's "Clementines" from October


Bishop Allen's "Like Castanets" from September

Bishop Allen's "Click Click Click Click" from July

Bishop Allen's "The Same Fire" from June

Bishop Allen's "Butterfly Nets" from May

Bishop Allen's "Flight 180" from April

Bishop Allen's "The Monitor" from March

Bishop Allen's "The News From Your Bed" from February

Bishop Allen's "Corazon" from January

I just realized how I really have spent nearly a year with Bishop Allen during this project. Sure, every month I was excited to place an order. And every month I was thrilled to get a package in the mail. And every month I listened to four new songs and smiled. But now, upon the release of the tenth of twelve monthly EPs, I recognize the significance of this series both from the band's standpoint and more pertinently from my own.
Christmas is partially as special as it is because it goes hand in hand with the new year. It's a time for remembering. And at a time in my life, when I couldn't be looking more forward to my future, it's refreshing to look back quite fondly at the events that have lead me to where I am and where I'm going.
Maybe I subconsciously steered you elsewhere to set myself up to unexpectedly talk candidly and privately. Maybe I just like Bishop Allen.



CHRISTMAS: 40 / BOWLING GREEN: 49
Paul McCartney's "Wonderful Christmastime"
Tom McCrae's "Wonderful Christmastime"
Sleeping At Last's "Silver Bells"