akinsellapolothology.
Chicago Public Radio aired it's local show "Chicagocore," on Sunday with a special interview entitled "AKinsellapolothology." If over fifty minutes of the music of and interviews with Tim Kinsella and Mike Kinsella intrigue you, you'll find great joy in this download. Whether or not you're a fan of Cap'n Jazz, Joan of Arc, Make Believe, Owls, American Football, Owen, or any of the various projects the two Kinsella brothers have been a part of, you'll be fascinated by two men around the age of thirty talking about their music-driven lives and how their family and reviewers respond. And Chuck Norris.
Spend an hour listening to this interview.
"Music for music's sake doesn't particularly interest me."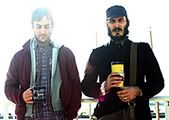 Chicagocore: aKinsellapolothology - an interview with Tim and Mike Kinsella


Joan of Arc's "Eventually, All At Once"
Tim & Mike Kinsella's Guitar Duet

Recall some of my coverage of Make Believe, Joan of Arc & Owen.