i'm a bicycle. i'm too tired.
Going to see Mike Kinsella (Owen) play is addictive for a few reasons. First of all, his brutally honest acoustic songs are both heartbreaking and life-affirming. The same can be said for his tour planning. For several weeks you can see Owen in an opening slot for MeWithoutYou, being talked over and treated with an amount of disrespect quite disproportionate to the quality of his songs. The next time he goes out, he'll be with Decibully and The Snake The Cross The Crown. The experience is serene and intelligent music lovers rejoice. What's next? More opening slots, now for I Can Make A Mess Like Nobody's Business. He likens his own performance to being the soundtrack on The OC where teenagers aplenty talk over his music. Tonight, Mr. Kinsella is teaming back up with Snake, Cross, Crown for a rejuvenate tour. And I'm thrilled to see him happy about making music again.
Mike started with Cap'n Jazz, and has played with Joan of Arc, Owls, The One Up Downstairs, and American Football. With the exception of Joan of Arc, a fiance, and home-ownership, Owen is now his main focus. The Owen pseudonym has released three albums and an EP, and new material is piling up for a forthcoming release.
It's an early show tonight, so this Spotlight will have to be truly music centered. But what better music to center around? Included are tracks from each of the aforementioned releases as well as some compilation-only tracks that are self-defined.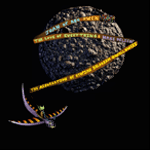 Owen's "Most Days And"
& "Most Nights"
from Owen

Owen's "Nobody's Nothing"
& "I'm Not Going Anywhere Tonight"
from No Good For No One Now

Owen's "Breaking Away"
from (the ep)

Owen's "Who Found Who's Hair in Who's Bed?"
& "She's A Thief"
from I do perceive.

Owen's "I'm Not Seventeen"
from Association of Utopian Hologram Swallowers

Owen's "In the Morning, Before Work" (Live on WBWC: 11/17/04)
from Polyvinyl 2005 Sampler

Owen's "I Woke Up Today"
from I do perceive. (Japanese import)