i must have been asleep.
Need something that will bring to mind The Arcade Fire, Talking Heads, and Clap Your Hands Say Yeah (if Alec Ounsworth made the vocal effort)? I didn't know I did either until I wrapped myself up in Catbird's fifth release as an independent label. The label spun off from the music blog, Catbirdseat, and damned if I'm not wrapped up in thoughts about that possibility.
The CD is Tap Tap's Lanzafame and it is quickly gaining attention across the webland and in my CD player as well. Of course they're from the UK, and you can listen to more on their MySpace, but I primarily urge you to pick up their new CD here before even the regular edition is sold out. I'm sorry I didn't tip you sooner, but the limited edition "books" went fast. They were worth the extra dollar.
Evidence that you should be clicking that link? Throw at least the above bands in a room and demand that they clap the shit out of a song, and you've got the following...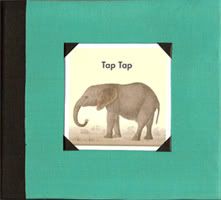 Tap Tap's "100,000 Thoughts"
from Lanzafame


Need more of Tap Tap's singer? Listen to Pete and the Pirates.

Actually, listen to Pete and the Pirates' "This Thyme"
from Wait Stop Begin right here.