it's been this way for so long.
Q: Why have I never made solid mention of an album that's become one of my favorites of the year?
A: To correctly get the songs to you, I'd have to take the CD out of my car and transport it to the computer, and I haven't wanted to take the risk of being without Sing Along With Acid House Kings on the road since I got it several months ago.
Acid House Kings are a quartet of starry-eyed Swedish songsmiths, singing sweetly about very little that is sour in the world. Your heart won't be able to help but feel lighter, upon opening itself up for this established group which, despite their youthful sound, has been playing for about a decade.
As I'm busy getting ready for a fun night, and watching Home Movies episodes, I'll give you this bare bones Tuesday Spotlight on Acid House Kings, your new (or already current) favorite indie Swedish pop group. Hint: It's not Summer without "Do What You Wanna Do."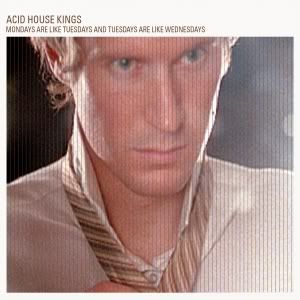 Acid House Kings' "This and That"
from Advantage Acid House Kings (1997)

Acid House Kings' "Sunday Morning"
from Mondays are like Tuesdays and Tuesdays are like Wednesdays (2000)

Acid House Kings' "Do What You Wanna Do"
& "This Heart Is A Stone"
from Sing Along With Acid House Kings (2005)


BONUS (New!): Acid House Kings' "Keep Your Love" (Loveninjas cover)