music running through the woods.
I've done a decent job at avoiding over-posting about Pitchfork Festival bands, because those bands' presence will be inevitable after this weekend. My alternate way of showing my excitement is through somehow related areas. Yesterday was Les Savy Fav, who played last year's Intonation Fest, and today is a band from Chicago who are playing after the headliners at Pitchfork on Saturday.
I first mentioned Them, Roaringtwenties back in April and have honestly longed to remind you every day of their jazzy instrumental experimental guitar greatness. The electrical guitars know no distortion, but rather dance wildly around new chords over the frenetic beat of the heavily jazz-influenced drumwork. Throw in work on wurlitzer, piano and an array of sounds and you've got the opening band for and younger version of Pele, longing only to impress their older brother. And impressive, they are.
With the spunk of Minus The Bear, the energy and ideals of Chicago Underground and the abilities of Pele, Them, Roaringtwenties have all the right moves, but they need your help. Without you they are Barney Rubble alone in a car, running as fast as they can in place. The guys have been working on booking a two week tour of the top right corner of America, and need help. Below is a list of their tour dates, with the shows that still need to be booked in

bold

. If you are nearby one of their scheduled shows, get out and see them and if you know of a place they can play one of their to-be-booked dates, let them know through MySpace.
Them, Roaringtwenties' first CD is called Vagina Monologues and you should send them a little bit of money for a copy. They also have snazzy new shirts available and are recording material for another CD. The tour to spread the word and drum up a few bucks for the new CD will begin a few days after Pitchfork Music Fest, and to kick things off, the guys are having a party where you can come in, listen and drink for $3 (plus any possible donation). Again, contact them through
MySpace for more information.
And lastly but certainly not leastly, enjoy four songs from Vagina Monologues. Well, simply listen to them, the enjoyment will come naturally.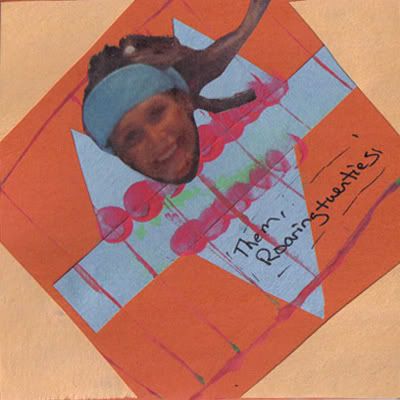 Them, Roaringtwenties' "Tonight Your Wife Is My Wife"
"Cody Hides Microphones at Practice"
"Riding Bikes to Work"
& "Duck Scout"
from Vagina Monologues



Them, Roaringtwenties Two Week Funfest Tour Dates:
(Again, they need help booking the

bold

dates)

August 4th: Grand Rapids, Kalamazoo, Lansing - MI
August 5th: Noruh Grotto - Fort Gratiot, MI
August 6th: Toledo, Cleveland, Columbus - OH
August 7th: Studio 315 - Mishawaka, IN
August 8th: Anywhere
August 9th: Anywhere
August 10th: Asbury Lanes - Asbury, NJ
August 11th: Danger! Danger! House - Philadelphia, PA
August 12th: Philly, NYC, Brooklyn, NJ
August 13th: Connecticut
August 14th: TBA - Rochester, NY
August 15th: Cape Code, MA
August 16th: Goodbye Blue Monday - Brooklyn, NY
August 17th: Detroit, MI
August 18th: Chicago or Suburbs
August 19th: Chicago or Suburbs