god is glorifying us with his magnificent fluorescence.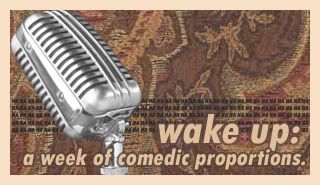 I shouldn't have to set up today's comedian in any way, shape, or form. Nevertheless, the subsequent paragraph:
David Cross doesn't stop. He's been in an overwhelming amount of films, television shows, music videos, and obviously much more. His roles (while sometimes seemingly in Eugene Levy-ian multitudes) have been the highlights of movies otherwise not worth mentioning (Scary Movie 2, Pootie Tang, Men In Black, She's The Man, etc.) and the surprisingly memorable small parts in extraordinary films (Eternal Sunshine of the Spotless Mind, Melvin Goes To Dinner, Ghost World, Waiting For Guffman). He's also lent his voice for recurring characters on what are arguably three of the best [adult swim] shows (Home Movies, Aqua Teen Hunger Force, Tom Goes To The Mayor) as well as for Grand Theft Auto: San Andreas and Halo. Throw in gigs on The Ben Stiller Show, Dr. Katz, The Drew Carey Show, Crank Yankers, NewsRadio, Tenacious D, as well as several appearances on the spectacularly irreverent Wonder Showzen and the finely-tuned Colbert Report, and you've got almost all the background information you need. But David Cross has starred in two television shows that were both miraculously brilliant and tragically overlooked. If one could base his sense of humor on only 83 half-hour television episodes, he certainly couldn't do much better than Mr. Show and Arrested Development.
Still, Cross is best understood through his stand-up which has been summed up with two Sup Pop CD releases as well as a DVD documenting the tour behind the 110 minute, Shut Up, You F*cking Baby!. Cross combines political, commercial, personal, and absurd commentary in enthralling storytelling that remains relatable while passionately pushing envelopes and the buttons of the easily-offended. I don't know what that synopsis does for you, and I obviously struggle with reviewing or explaining stand-up comedy. For that, I apologize. But for presenting the following bits from David Cross' career, I am not.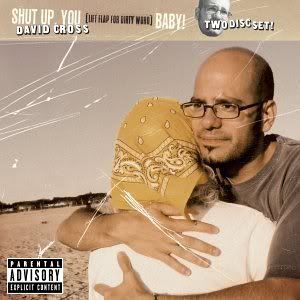 David Cross' "Lunch With Frankenstein"
& "Diarrhea Moustache"
from Shut Up, You F*cking Baby!

David Cross' "Women, Please Rinse Off Your Vagina and Anus!"
from It's Not Funny



David Cross on Last Call with Carson Daly (September 15, 2005)


David Cross on Wonder Showzen


Trailer for Let America Laugh DVD (including exclusive footage)


The New Pornographers' "Use It" Video


David Cross on Dr. Katz


David Cross and Michel Gondry in Gondry's "One Day..."
(hint: Cross is the one playing a turd)


David Cross on Mr. Show's "Blowing Up The Moon"


David Cross on Mr. Show's "The Audition"


David Cross as Tobias at an Audition in Arrested Development