searching for this band who writes songs about girlfriends.
Rocky O'Reilly and Shaun Robinson are Irish. O'Reilly and Robinson are Ireland's happiness-accepting dance floor-driven answer to The Postal Service. O'Reilly and Robinson are Oppenheimer, and if their self-titled album, released by Bar/None Records, grants as many bobbing heads, smiling lips and genuine interest as it should, they could become the standard. It would be nice to hear less reviews that use the term "Postal Servicey," wouldn't it? Granted, that term still pulls it's weight, and perks your interest, and you'll (only seemingly) reluctantly buy Gibbard's and Tamborello's next instant classic. It does, and you will. I know that.
But Oppenheimer draw from many influences, including Kraftwerk, Stereolab, My Bloody Valentine, and (believe it or not) The Like Young. They've got a firm grasp on what the words "pop music" are all about. Warm, fuzzy, bright and embracing, Oppenheimer is a worthwhile album of melodies that will surely stick with you. O'Reilly and Robinson will sing you to the dance floor, to sleep, to drive, and to remember why it is you always come back to pop music, no matter how obscure your preferences get.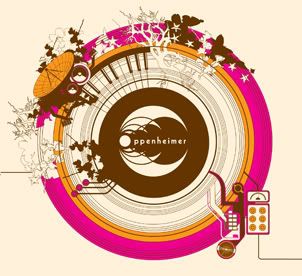 Oppenheimer's "Breakfast in NYC"
& "Saturday Looks Bad To Me"
from Oppenheimer


It doesn't take much to make me ache for Saturday Looks Good To Me, specifically Every Night, so this seems an obvious segue. Enjoy National Hug Your Sweetheart Day.

BONUS: Saturday Looks Good To Me's "The Girl's Distracted"
& "When The Party Ends"
from Every Night