i've had it with these manner manning snakes.
The poster should have, in plain text, simply read, "Snakes on a Plane: No Tagline necessary." The world would have still been sold. I'll be attending the local premiere tonight at 10PM, and I'll be helping Jake advertise for his recently booming CafePress store. He currently has more than thirty "Snakes..." related items for sale. You can purchase any design on any format, including T-Shirts, aprons, baseball jerseys, bibs, boxers, thongs, camisoles, calendars, dog shirts, tiles, golf shirts, cards, journals, infant creepers, hoodies, baby dolls, tanks, mugs, messenger bags, tote bags, mouse pads, pillows, postcards, magnets, posters, steins, bumper stickers, teddy bears, coasters, clocks, and tracksuits.
It all started with a group of us talking about alternate locations snakes shouldn't be that rhyme with 'plane.' Jake's store started with the modest "Snakes in a Drain" design (pictured below) and exploded with creativity and crudely drawn worm-like snakes. The shop was recently featured and published in a widely distributed book entitled Snakes on a Plane: The Guide to the Internet Sssssssssensation and is being viewed by exponentially more people every day. I guarantee you won't want to be without these items that commemorate Samuel L. Jackson's greatest accomplishment in life.
I ordered my "Snakes in Chow Mein" (pictured below) shirt this week. I'll wear it when I see the film for the second time. That much you can count on.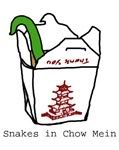 Jakes on a Plane!


Man Man's "Engwish Bwudd"
& "Black Mission Goggles"
from Six Demon Bag