i am so far from where i wanted to be.
I've got many personality traits that, when combined, make it very easy to hear new music.*
I got five CD's in the mail from Fall Records today. My intention was to simply purchase In Ink Please's Formica Table for Two, but compulsion took control. I'm interested to hear the label's back catalog and roots, but as it stands, I'm very much content with their present.
In Ink Please is Vanessa Palmer and Jerik Hendrickson. Together, when not toying with Black Sabbath covers, they play acoustic piano-driven pop songs that may very well remind you of Lisa Loeb with better instrumentation and more clapping or Gregory & The Hawk with a softer view of the world and
better recording quality
. You can attribute some of the sound quality to their latest album being mastered by none other than Page France's Michael Nau. This is an interesting side note and not a basis for musical comparison, though both bands are making some damn fine indie pop songs, the similarities end right about there.
Nevertheless, In Ink Please are a fine listen and Formica Table for Two is a worthwhile investment from Baltimore's budding and precious Fall Records.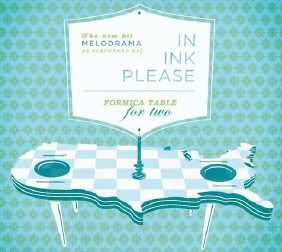 In Ink Please's
"Rick Allen"
& "Carlo Rossi Jug Band"
from Formica Table for Two




BONUS: Gregory & The Hawk's "Boats & Birds"
& "The Bolder Thing To Do"
from Gregory & The Hawk Demo


*And very difficult to keep money.