for years and years i chased this day.
Jimmy LaValle has been a member of Tristeza, Sigur Ros, The Black Heart Procession, GoGoGo Airheart, Swing Kids, and the Locust. There's no way he could've gotten around this much on looks alone. As a solo artist, LaValle assumes the pseudonym The Album Leaf, and he is about to release his fourth full-length album in October through Sub Pop Records. With lush, ambient, glitchy pop music in the same realm that Her Space Holiday had all but perfected, The Album Leaf takes you on a floating tour of the city at night. The lights and movement below keeps you anchored to the real world, but LaValle effortlessly lets you experience that several feet above where you're used to being.
No doubt 2004's In A Safe Place got your attention, but let LaValle expand his place in your listening ears with Into The Blue Again.

The Album Leaf's Into The Blue Again is available for pre-order at Sub Pop. If you order the CD, use coupon code "blooballzcd" for $2 off.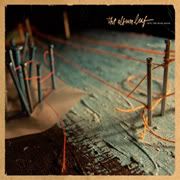 The Album Leaf's "Always For You"
from Into The Blue Again