it's not about you and it isn't true.
Generally, the difference between the sound of trumpets and other horns live and recorded is all the difference. I wish I were able to report to you the validity of this statement in relation to Cursive's Happy Hollow, but I have a performance restricting me from seeing Cursive play with Make Believe on Friday. Trust me, I'm more than upset. Even more so now that I've received the "Dorothy At Forty" single. With two additional non-album tracks, the three songs give good reason to look forward to the touring supporting the new album as well as the album itself. They don't, on their own, make positively certain that the move to horns from cello will make devout fans happy, but they absolutely don't stand as an argument that it was the wrong decision.
As I was getting at, I anticipate that anyone seeing Tim Kasher and the boys pound the new songs out live (presumably with a touring horn section) will have the more definitive answer regarding the benefits of the shift to trumpets, trombones and saxophones. My prediction is that they will be wowed and won over. The combination of Cursive's guitar and vocal power with live horns should blow audiences away. Unfortunately, the first single and it's two supporting songs don't quite have that ability. "Dorothy At Forty" is a great concept, through and through, but damned if I can't get past the guitar crunch to enjoy the trumpets, et al. "The Bitter End" is a comfortable Cursive waltz that isn't as memorable as it is enjoyable. "The Censor" got me the most excited about the material, and left me wanting more at a mere two minutes.
It's strange that when I listen to The Good Life, I think I'm more of a Cursive person, but in listening to this single a few times through, I long to hear Album of the Year. Were there only a comfortable balance of the two that Kasher were able to work out, I'd be won over. As it stands, I'll own Happy Hollow just as soon as it's available, but it may just drive me to put The Ugly Organ or Novena on a Nocturn on. What does it all mean? Tim Kasher is a great songwriter with tremendous vocal abilities, never sacrificing his signature sound whether he's solemnly recounting drunken relationship ice-breakers or shouting mightily the horrors of songwriting itself. He is constantly moving forward and refuses to do the same thing for too long. Fans of Cursive have to be willing to receive changes, as is evidenced by their catalog of albums. The variety of material he produces in multiple bands is evidence of his capabilities and perhaps his inability to find a happy medium within.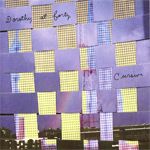 Cursive's "Dorothy At Forty"
& "The Censor"
from Dorothy At Forty [Single]



If you're interested in the lyrics or the breakdown of musicians and instruments for each song, let me know. And let me know if you think I'm off base about any of it, or anything ever. I recognize that the album has leaked and many already have their opinions. As the writer for a young blog, I don't get many promos and I'd rather not download albums before their release. That's me and I'm not forcing those ideals on you.

Daytrotter has Maritime playing four of their new We, The Vehicles songs live (in studio) and they sound as great as you might expect.

Jakes on a Plane is coming along quite steadily. You're bound to find a favorite before everyone else, when the store is featured in the Snakes on a Plane Scrapbook.

Can you tell that I've already got more time to spend here? Tomorrow will even bear a proper Tuesday Spotlight. You can't go back now.